Brass Lessons
All instructors are independent contractors who teach a wide range of styles, such as symphonic, jazz, and pop.
If you are interested in learning about each instructor, feel free to browse their bios below.
JEREMY BOLT — ALL BRASS INSTRUMENTS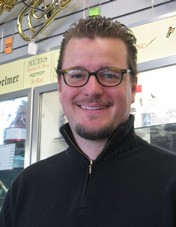 Prospective students should contact Jeremy directly.

Jeremy Bolt has been teaching brass players of all levels since 1991. His individualized approach, teaching philosophy, and broad musical background help nurture the "whole" musician. He holds a B.M. from Berklee College of Music where he was awarded both the Berklee Winds Scholarship for performance and the Peter Kaleta Scholarship for composition.
A specialist in the Broadway musical, Jeremy has performed in over thirty-five pit orchestras, and has served as musical director for productions on both coasts of the USA. Currently he is the lead trumpet and horn arranger/transcriber for Chicago Tribute Authority, based in Sacramento.
Email: [email protected]